Congratulations to the Winners of the 2017 IJCC Ireland Japan Business Awards
On 22nd November at the Conrad Tokyo, the Chamber celebrated another year of Ireland Japan business success, during their 8th annual business awards.
In attendance with the President of the IJCC, Eamonn Murphy, we were delighted to have Her Excellency Mrs Anne Barrington, Ambassador of Ireland to Japan and Patron of the IJCC. We were also joined by IDA Ireland, Enterprise Ireland and our Platinum Partners, Toyoko Inn.
There were 6 companies being recognized this year including a special Lifetime Achievement award.
Commenting on the awardees, the IJCC President Eamonn Murphy said – "On the biggest night in the calendar for Ireland Japan business relations, the Chamber was delighted to recognize such deserving examples of Irish and Japanese innovation."
In our largest attended event to date, guests were entertained by traditional Irish music from "The Lady Chieftains" and they enjoyed a unique Irish themed menu provided by the Conrad. Our partners, Guinness and Jameson, provided a free bar.
A silent auction was held for a framed Irish rugby jersey that had been signed by the Irish rugby team that visited Japan during the summer. All proceeds are going to the Support Our Kids charity.
After the awards presentation and entertainment, the evening culminated with a gala raffle with many guests winning interesting prizes to take home with them. The main prize, courtesy of our Corporate Member, British Airways was a return business class ticket for 2 to Dublin!
We look forward to seeing you at the 2018 IJBA's. 
Award Winners - For contribution to Ireland Japan business relations.
Paca Paca Farms
https://www.facebook.com/PacaPacaFarm/
Founded by Harry Sweeney in 2001, Paca Paca Farm is a spacious 550-acre racehorse breeding facility in the hills of the famous Hidaka district of Hokkaido. Paca Paca Farms has bred 3 G1 winners, including the 2012 Japanese Derby winner Deep Brillante. Harry became the first foreigner to own agricultural land in Japan, and the first to hold breeder and owner licenses.
Y Volution Japan Co., Ltd
YVolution manufacture and sell children's scooters, bikes, and hoverboards and are now sold throughout Japan, including in Toys R Us and Aeon. They have been growing rapidly in Japan thanks to the efforts of Tohyama-san and his team. Yvolution's success in Japan is largely due to the product quality and his their passion to sell.
C & F JAPAN
C&F Green Energy is a world leading, industry setting, manufacturer of small and medium-sized wind turbines with a mission to make wind energy affordable. C & F Japan, supported by Enterprise Ireland, have achieved significant growth in Japan throughout the last decade. By bringing their affordable wind energy solutions to market.
Celtic Sea Minerals
Celtic Sea Minerals specialise in the research, sustainable processing, sales and distribution of marine algae products into the global animal production industry. A leader in innovative and sustainable animal feed solutions. They bring high-quality animal feed products, sourced from the Atlantic ocean off Ireland, to the Japanese market.
Ward Fish
Ward Fish, of Killybegs, Co. Donegal, was founded in 1998 and has built up a reputation as one of Europe's leading pelagic processors & suppliers and now exports to customers worldwide, including China, Japan, Russia, Africa & Europe.
Special Lifetime Achievement Award
The Chieftains
http://www.thechieftains.com/main/
Legends of Irish Music, the Chieftains have been touring Japan since 1991. Winners of 6 Grammy's and awarded the title of "Ireland's musical ambassador's" by the Irish Government, the Chieftains have brought Irish music to the whole world.
The IJCC recognised the contribution that the Chieftains have made to strengthen Ireland Japan relations over the last 25 years.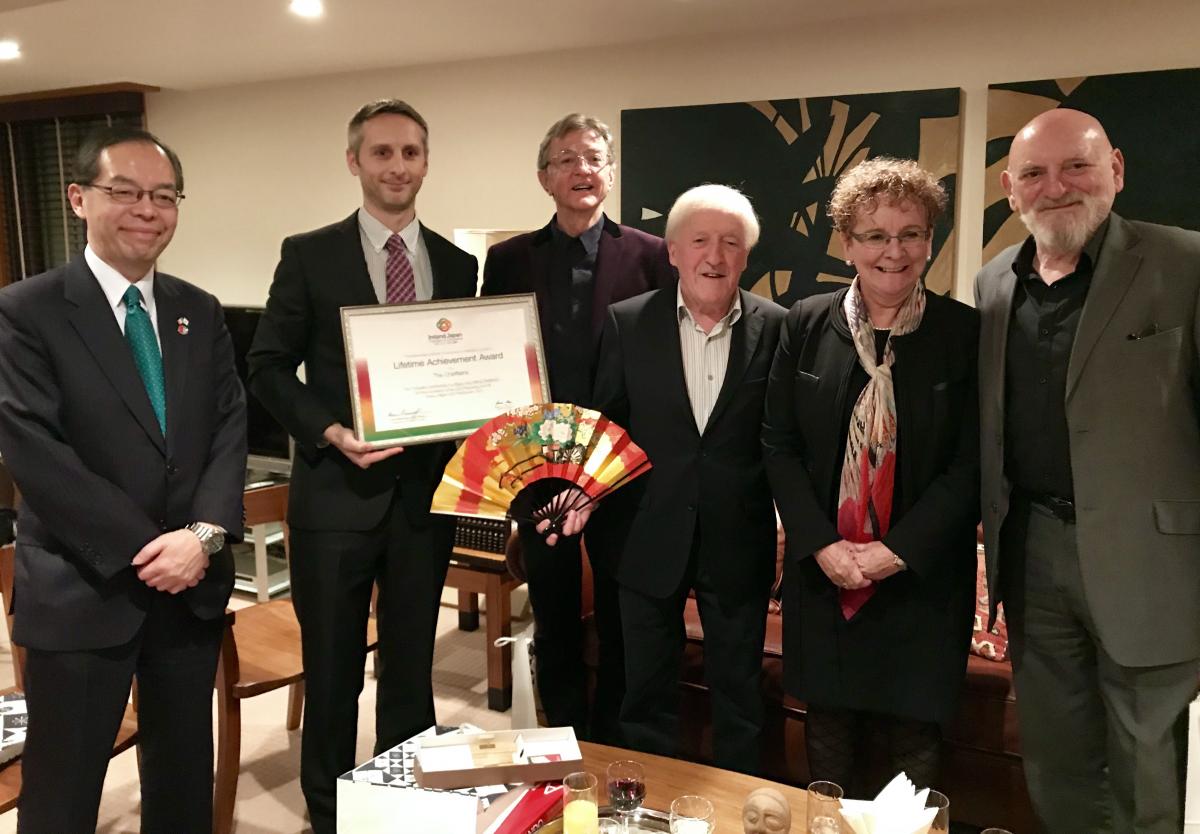 Sponsors
With thanks to our Platinum Partners, Toyoko Inn.