Member Focus - Neil McInnes, Conrad Tokyo
1. Could you give us an overview of your company?
Conrad Tokyo is one of the leading luxury hotels in the capital, renowned for its welcoming atmosphere and innovative, sophisticated sense of style. The hotel is situated in the heart of Tokyo's bustling Shiodome District with unparalleled panoramic views of Tokyo Bay. It boasts 291 generously sized rooms and suites that fuse classic comfort and modern interiors with a distinctive Japanese touch while our award-winning attractive restaurants and show-stopping bar offer a host of exciting modern dining options executed with creative flair. For business gatherings, two impressive ballrooms resplendent in an exclusive two-story Annex, and meeting rooms with the latest audio-visual technology are ideal venues for memorable private conferences as well as lavish social events. Add Tokyo's finest spa and a dramatic sumi-ink decorated 25-meter indoors swimming pool, and it is clear why Conrad Tokyo is the contemporary sanctuary for business and leisure travelers.
2. What is your connection to Ireland?
It is well-known that Ireland and Scotland should be considered sister nations because both countries have links that go beyond geographic proximity as they are separated at their narrowest point by only 19 km. Since ancient times, they have shared a Celtic culture and there is always their ambiguous relationship with their English neighbours. I am from Scotland where I grew up and started my career at Hilton. There is a close relationship between my home country and Ireland, and most importantly, I have many Irish friends in both arenas, business as well as in my private life.
3. How did your company first become involved in the IJCC?
Conrad Tokyo became a member of IJCC since two of our past Directors of Operations were from Ireland. We have continued to be members even after they left Japan as we consider our relationship with the chamber as very important. We also have had the privilege of hosting the Ireland Japan Business Awards events twice in the past. In June 2017, we had the honour of hosting the Irish Rugby Team when they came to Japan for a friendly match.
4. What changes have you noticed in Ireland Japan relations over recent times?
Since I came to Japan ten years ago, I have noticed the growth of the Irish community in this country along with the increase in size of Irish Chamber of Commerce, which is great and positive for all. Currently, import goods from Ireland seem to be on the increase and it is wonderful to see more Irish products are available here in Japan. At Conrad Tokyo, we offer a good range of Irish whiskey at our bar & lounge, "TwentyEight" which is popular among our guests. We also continue to purchase Irish food products, including mainly seafood ingredients which are often used at our restaurants in the hotel. During the recent Rugby World Cup 2019, I was delighted to see the Irish Rugby Team showcasing their country and performance, and also the Irish rugby fans here in Tokyo and all over Japan enjoying the games.
5. What areas of growth do you see for your company (or sector) in the next 12 to 24 months?
There has been an unprecedented huge negative impact to the tourism industry as a whole, during this entire 2020.Naturally, the hotel itself has been affected to a point that we can just see moving up and forward from this point onward. For the next 12 to 24 months, we strongly hope to see a positive recovery once all the measures are set in place starting with a universal vaccine. Another positive impact will be the Tokyo Olympic Games during summer next year. We have high expectations for that global event and we prepare in earnest as we are very much looking forward to welcoming many guests not only from all over Japan but also from all over the world, to offer them our exceptional services we are renown for.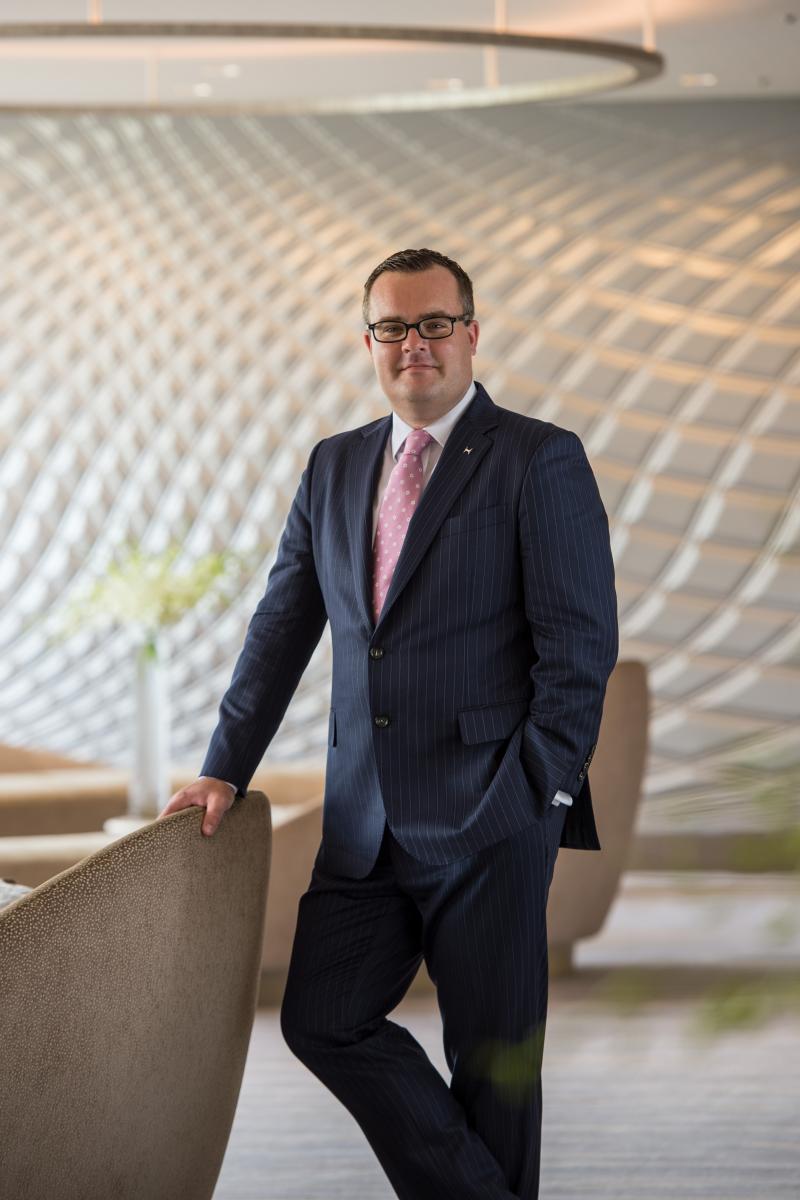 From the interview to Mr. Neil McInnes, General Manager at Conrad Tokyo. (neil.mcinnes [at] conradhotels.com)