IJCC Internship Programme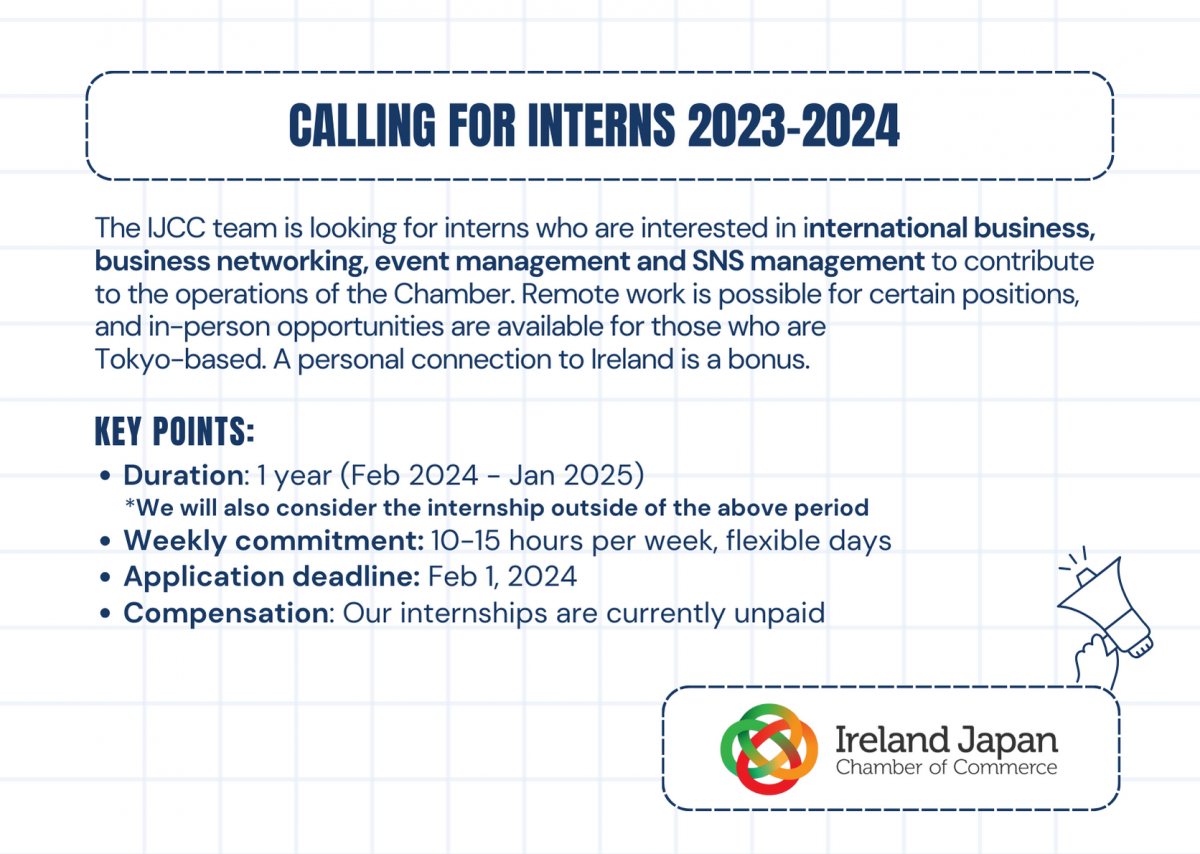 Apply now below via the IJCC Internship Application Form:
https://forms.office.com/r/igwyeM1f7E
Why you should join us 
Are you a university student who is in the process of building a professional network for your future career? 

Here at IJCC, we have a strong network of professionals who are successful in their respective fields. As an intern, you will be provided with guidance, feedback and support throughout your internship journey as well as your professional career.  
Tip: Maybe you would get exceptional tips for building your LinkedIn that will set you apart from other users? 👀 

Are you willing to experience real projects in a dynamic environment? 

Say goodbye to boring tasks. From day one, you will be assigned to meaningful projects which contribute to our chamber's goals (definitely not fetching coffee for members). The internship is unpaid, but through our projects, you will gain valuable experience and skills that will set you up for your future career. An internship with us will look amazing on your resume considering the practical experience you will gain. 

Do you prefer flexible working hours with freedom to share innovative ideas of your own? 

We understand your priorities and schedules, and that is why we have made the internship as flexible as possible. Depending on the position, you will need to be on-site sometimes, but even our monthly meetings can be completely online. Also, we do not hold the typical corporate image, so you can express your ideas freely.  
Overall, we are a friendly team of professionals. Your new ideas and perspectives are valued, and we trust and encourage you to achieve your goals with us. If you have even a slight interest in the internship, feel free to fill in and send us the application form!
Available positions and job descriptions 
Position
Responsibilities
# of interns calling
Event management intern (hybrid)

Ability to attend casual weekly networking events which normally take place in evenings & formal big networking events on-site 

Assistance in preparation and setting up the event venue 

Scheduling and contacting with members, and information sharing with board directors 

Drafting event reports to be shared on SNS and newsletter 

Welcome to share event ideas appropriate in supporting chamber's goals 

Participation in event planning after gaining some experience  

2
Event photography intern (Hybrid)

Ability to attend casual weekly networking events which normally take place in evenings & formal big networking events on-site 

Taking good clear photographs to be shared on SNS and newsletter  
*Owning a camera is preferrable  

Basic photo editing 

1

Committee intern 

(Online) 

Participation in monthly online committee meeting  
* Mostly observing but raising ideas is welcome 

Contacting respective committee manager for updates, then summarizing and sharing important points at the start of the meeting 

Taking notes on important points during the meeting 

Sending the notes together with information for the next meeting to committee members 

1

Social media intern 

(Hybrid/ Online) 

Managing IJCC social media pages 
* Instagram, Facebook, LinkedIn, Twitter 

Assistance in creating photo and video materials  

Designing a weekly/ monthly social media calendar and later confirming with our social media manager 

Keeping up with current SNS trends to effectively promote IJCC 

Experience in website design is a plus 

1

Marketing & communications intern 

(Online) 

Support in creation of monthly newsletters 
* We have plans to increase the frequency in the future 

Assistance in proof-reading and formatting the articles 

Supporting director in choosing and writing monthly member features  

Creation of other contents in newsletters 
* News, Upcoming events, Special offers from members etc.  

1
Requirements (same for all positions) 
Language qualifications: Intermediate English (IELTS 6.0/ TOEIC 600), Basic Japanese  

Computer skills: Microsoft 365 

We look for applicants who are; 
Motivated to learn and grow 

A team player with excellent communication skills  

Available to communicate in a timely manner  
Application process: 
Document assessment through form 
Interview with Operations manager and a director related to the position 
Email confirmation for final results
Still not sure about joining?
Hear what our former and current interns say:
Ronan Takizawa (Jan 2023 - May 2023)
My internship at IJCC was an enriching experience that provided me with a diverse set of tech-related projects to work on, including social media analysis, web design and newsletter automation. What makes this internship unique is the organization's commitment to allowing interns to pursue projects that align with their passions, fostering an environment where creativity thrives. 
A major takeaway from my internship was the freedom to work flexibly. There were no limitations on where and when I worked so, in a sense I was able to accomplish a lot. Furthermore, the professional work environment taught me how to communicate in formal business settings, a skill that will undoubtedly serve me well in my future career. Another highlight of my internship was the chance to connect with the Ireland-Japan community, forging meaningful relationships and keeping in touch with my cultural roots.  
I highly recommend this internship, especially to those venturing into internships for the first time, as it offers a perfect blend of manageable workload and flexibility for growth and learning. 
Shalini Ranasinghe (Aug 2023 - Sept 2023)
During my internship at the Ireland Japan Chamber of Commerce, I've had a transformative experience delving into the world of international business relations. From assisting in organizing events that fostered cross-cultural connections to contributing to market research projects, I've gained invaluable insights into the dynamics between Ireland and Japan. Collaborating with a team of dedicated professionals has not only expanded my understanding of bilateral trade but has also equipped me with practical skills in networking and communication.  
This internship has truly been a stepping stone towards my personal and professional growth, and I'm immensely grateful for the opportunity to contribute to strengthening the ties between these two nations.
Khunn Kyal Sin Kyaw (Aug 2023 - Sept 2023)
Throughout my ongoing internship at IJCC, I've had the opportunity to work on a variety of stimulating projects including developing a comprehensive onboarding process to welcome future interns and SNS management. These projects aligns perfectly with my passion for HR and leverages my market research skills, allowing me to explore topics I'm truly passionate about.  
Another valuable aspect of my internship has been the chance to immerse myself in business networking through various events. This experience has significantly improved my professional networking skills, enabling me to forge meaningful connections within the industry. 
I recommend this internship to those who want to leverage their existing skills and experiences. While English is the primary language used in the office, an intermediate level of proficiency is perfectly acceptable. This makes it an ideal choice for students looking to challenge themselves in an English-speaking work environment without feeling overwhelmed.